If you're facing criminal charges for a drug offense in Galveston, it's easy to feel like the whole world turned against you. However, you're not alone.
As a licensed Texas criminal defense lawyer, I'm here to stand by your side. I'll shed light on how legal proceedings work and develop a solid defense strategy to help you get the charges behind you.
I'm Tad Nelson, a Board Certified® criminal law Attorney, ACS/CHAL Lawyer-Scientist, and former Galveston County Assistant District Attorney. Since 1991, I've practiced law in Galveston County and as a criminal defense attorney since 1995.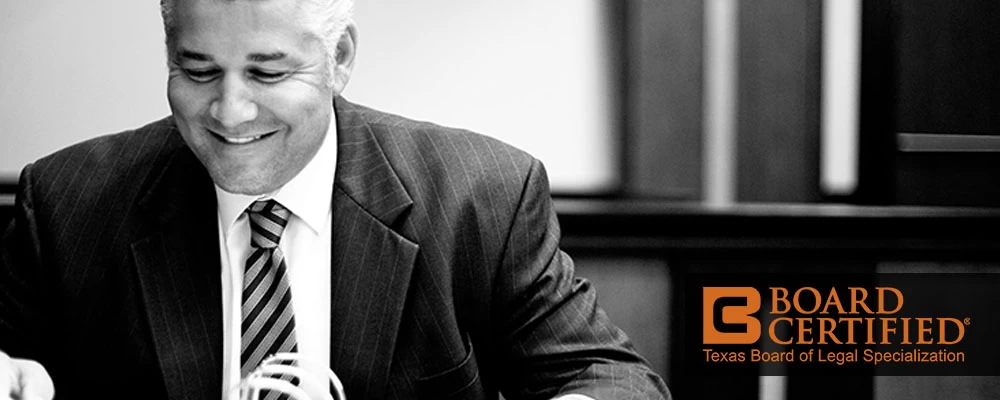 If you're seeking legal representation or have questions about how we can help with a Galveston drug charge, contact our law office today at 409-765-5614.
Texas Law & Drug Offenses
The Texas Controlled Substances Act encompasses a wide range of activities such as the possession, distribution, trafficking, and manufacturing of controlled substances.
The severity of the criminal classification of charges associated with drug offenses can vary drastically.  Factors such as the type of drug, quantity, and whether there were any aggravating circumstances will affect the severity of the classification of the offense.
For example, offenses involving possession of small amounts of marijuana are limited to misdemeanors, while individuals caught with any amount of cocaine will face felony drug charges. Individuals caught with large amounts of weight will see their offenses classified as First Degree Felony offenses.
Understanding Texas drug laws and approved defenses is a big part of beating drug charges.
For over 30 years, we've helped people charged with drug offenses in Galveston County. Whether it's negotiating lesser charges during pre-trial negotiations, or helping countless others to get their cases dismissed, we have extensive experience fighting drug charge allegations.
Our legal team understands the nuances of both Texas state law and federal law that might apply to your situation. If you need our help, we'll get you up to speed on the laws pertaining to your case, break down what they mean, and how they may affect the potential outcome of your case. If you have any questions, give us a call at 409-765-5614.
How We Defend Our Clients
Every situation is unique and deserves a tailored approach. Prior to developing a strategy for fighting your case, we'll need to explore every aspect of your case. Our first objective will be to analyze the facts, scrutinize the evidence or lack thereof, and investigate any potential mistakes made by law enforcement during your arrest.
We have quite a few options to fight a drug charge in Galveston. We can challenge the legality of a search and seizure, question the accuracy of drug testing and analysis, or argue that you were unaware of the presence of drugs.
We've even beat drug charges by challenging the legality of the initiating traffic stop.
Whatever defense is supported by the evidence (or lack thereof) is usually the route we'll take to fight your charge. Remember, our goal is to keep you free.
Learn More: 5 Key Factors for Beating Criminal Charges
Plea Bargain or Take It to Trial?
The prospect of a trial can be frightening, but sometimes, it's the best course of action.
Other times, negotiating a plea deal may be in your best interest.
With extensive experience in the courtroom and negotiation skills honed over years of practice, we're well-equipped to guide you through these critical decisions. Once we take a look at your case, we can give you a confident assessment of the situation and advice on moving forward.
If we choose to go to trial, I'll advocate passionately on your behalf, working to ensure that the jury has reasonable doubt of your guilt.
If the details of the case are damning, it may be best to negotiate with the District Attorney's Office. If we deem a plea bargain more appropriate, I'll negotiate with Galveston County to minimize the impact of the charges on your life.
It's not uncommon for us to get drug charges reduced, reach a probation agreement, or even get a deal that includes deferred adjudication.
Whatever the route, Tad Nelson & Associates is here to find the best way to get the matter behind you and out of your life.
We're A Full Service Law Firm
A Commitment to Client Care
If you have a case in the system, the anxiety associated with it can take a toll on your emotional well-being. It's not uncommon to feel overwhelmed by the situation. As your criminal defense lawyer, I don't just provide legal support; our law firm is here to provide emotional support, too.
We strive to keep open lines of communication, provide justified reassurances, and offer candid advice when you need it. Whether it's explaining legal jargon, discussing potential outcomes, or just lending a listening ear, the Law Offices of Tad Nelson & Associates is committed to ensuring that you're informed and confident at every stage of the process.
See If Your Case Can Be Easily Resolved
Talk with a Galveston Criminal Defense Lawyer Today
Facing a drug offense charge can feel like facing a storm, especially if you're facing a felony charge. But remember, you're not alone. With our knowledgeable and skilled legal team on your case, we'll work to turn the tide in your favor.
Galveston criminal defense lawyers Tad Nelson & Amber Spurlock have a wealth of experience helping people fight criminal charges related to drug offenses and we can help you too.
If you need to talk with a lawyer, schedule your 100% confidential consultation with us today. We have law office locations on Galveston Island and in League City. To get started, call us at 409-765-5614 or submit the attorney contact form today.